Shanghai was known as "Shopping Paradise" and "Oriental Paris". Shopping in Shanghai is one thing that travelers can't missing. Here some information of shopping place in Shanghai.
Yu Garden and Bazzar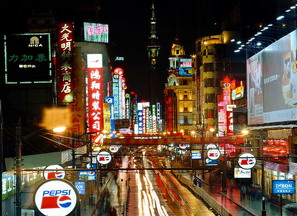 Address: No. 218, Anren Jie, Old City
Opening hour:8:30a.m-5:00a.m
Yu Garden, a classical garden in downtown Shanghai, boasts a history over 400 years. But Yu Garden was also very famous for the local things. So it attracts thousands of travelers everyday.With what sometimes feels like thousands of people crowded into a relatively small space, this important tourist attraction often gets a bad rap. Sidetracked by the numbers of people, the overbearing architecture, and the entertainment. The travelers sometimes will feel confused. They will forget that the main attraction here is a beautiful 400 year old Chinese garden at the center of the complex.


More details of Yu Garden
Nanjing Road
Address:Nanjing Road, Shanghai
Opening Hour:10:00a.m-10:00p.m
Nanjing Road enjoys the reputation of No.1 Commercial Street in China. Developed from the beginning of the 20th century, Nanjing Road has clusters of a wide variety of shops from those that are centuries old, to special ones and modern malls. If you are interested in Chinese culture and art, Nanjing Road is the place you can't miss.


More details of Yu Garden
Tea Market
Address:
Datong Lu. (Close to Zhongshan Lu)
Opening Hour:
8:00a.m-7:00p.m
This tea market provide various chinese tea with reasonable price. Sometimes you can bargain with the shop owner. It is also very interesting and some people regard it as a kind of art.
Dong Tai Road Antique Market
Address:
Dong Tai Road Antique Market
Opening Hour
9:30a.m-7:30p.m
Dong Tai Road is a lot of fun, especially if you're in the mood to just wander and look at junk. You'll find every kind of Mao memorabilia to old records, photos, lanterns, porcelain, chopsticks and knick-knacks. Remember to bargain hard here and have fun treasure hunting.
Hong Qiao New World Pearl Market
Address:
Hong Mei Road on the corner of Hong Qiao Road
Opening Hour:
10:00a.m-10:00 p.m
The market is a little out of the way for the normal tourist who is staying downtown, but if you have time (hey, they're open until 10pm), make the trip out. Like Pearl's Circles, vendors have ready-made items for you to buy, but you can do your own designing. Freshwater pearls are a real value in China.