Shanghai has a developed transportation system, include plane, train, boat, bus, metro and so on. As one of the major hub for the mainland China, and it is a seaside city, Shanghai possesses a very convenient transportation for people at home and abroad.
Plane
Shanghai is the only city who has two airports in China. They are Shanghai Pudong International Airport and Hongqiao International Airport.
Shanghai Pudong International Airport
It is the new international airport and most international airlines now fly in and out of here, located in Pudong New District, about 30 kilometers (18.6 miles) from Shanghai's downtown area and about 40 kilometers (24.9 miles) from Hongqiao International Airport.
By Pudong Airport Shuttle Bus : Ten airport bus lines handle transfers from Pudong International Airport to the city center.
By Maglev: The Maglev motion between Longyang Station and Pudong Internation Airport. The charge is CNY 50 for an ordinary single trip and CNY 100 for VIP, CNY 80 for an ordinary round trip and CNY 160 for VIP.
By Metro Line 2: It costs CNY9 for the whole trip and CNY8 from Pudong to Hongqiao airport. It needs more than one hour between the two airports.
By Taxi: A taxi costs approximately CNY 150 from Pudong International Airport to People's Square, the center of Shanghai, and it takes about 50 minutes.
Hongqiao International Airport The airport for most domestic flights is Hongqiao which is older, and located in the west of Shanghai, 15 km from the city center. A taxi to Hongqiao airport from CBD should cost approximately RMB30-50. Public bus No.925 runs to the airport from People's Square. Most domestic destinations can be reached from Shanghai.
Train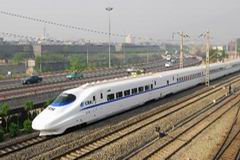 Shanghai has several railway stations, among which Shanghai Railway Station, Shanghai South Railway Station, Shanghai West Railway Station and Shanghai Hongqiao Railway Station are the main ones.
These four stations provide convenient transportation for tourists to many destinations throughout China. Shanghai is at the center of an important rail network and there are daily trains to Xi'an (17 hours), Beijing (14 hours), Kunming (36 hours), Guilin (26 hours), Qingdao (16-20 hours) and almost all provincial capitals from which travelers can choose further transportation to their destination. There is also a train to Kowloon in Hong Kong (26 hours).
Long-Distance Bus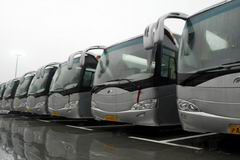 The developed highway network enables Shanghai to have consummate long-distance bus passenger transport system. Shanghai now has about 1,680 long-distance bus routes radiating to cities in 17 provinces all over the country. There are over 40 long-distance bus stations based in the city zone and the suburbs, mainly concentrated in Zhabei District especially the area near Shanghai Railway Station.

The main long distance bus station is near the train station on Qiujiang Road. Buses from here head to Nanjing (4 hours), Wuxi, Suzhou and Hangzhou and other destinations. There is also a new bus station servicing Shaoxing, Ningbo, Yangzhou and Hangzhou.
Maglev Train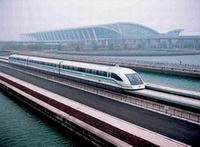 Shanghai Maglev Train is the first commercial high-speed maglev line in the world. Construction began in March, 2001, and public service commenced on January 1, 2004. The train can reach 350 km/h (220 mph) in 2 minutes, with a maximum speed in normal operation of 431 km/h (267 mph). During a test run on 12 November 2003 , the vehicle achieved a top speed of 501km/h, which currently stands as the speed record for Transrapid vehicles. The Shanghai Transrapid project took 10 billion yuan (1.2 billion US dollars) and 2.5 years to complete the 30.5 km (19 miles) track.
The train runs from Longyang Road station on the Shanghai subway line 2 to Pudong International Airport, and the total track length is about 30 kilometres, with an additional, separate track leading to a maintenance facility. The train takes 7 minutes and 20 seconds to complete the journey, and its top operational speed is 431 kilometers per hour.......more
Subway
Shanghai has 11 Subway lines so far, totaling approximately 400 kilometers (about 249 miles).Subway is a speedy, safe, comfortable and convenient means of transportation for traveling around Shanghai. The main attractions, transportation hubs and commercial areas such as the Bund, Nanjing Road, Huaihai Road, People's Square, Shanghai Railway Station and Xujiahui can be reached by several subway lines.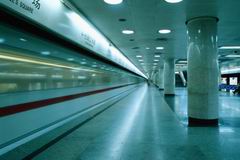 Shanghai Subway Lines:
Line 1:Xinzhuang ↔ Fujin Rd.
Line 2:Xujing East ↔ Guanglan Rd. ↔ Pudong Airport
Line 3:Shanghai South Railway Station ↔ North Jiangyang Rd.
Line 4:(Circle Line): Yishan Rd. ↔ Century Avenue ↔ Shanghai Railway Station ↔ Zhongshan Park (↔Yishan Rd.)
Line 5:Xinzhuang ↔ Minhang Development Zone
Line 6:Gangcheng Rd. ↔ South Lingyan Rd.
Line 7:Huamu Rd. ↔ Shanghai University
Line 8:Shiguang Rd. ↔ Aerospace Museum
Line 9:Middle Yanggao Rd. ↔ Songjiang Xincheng
Line 10:New Jiangwan City ↔ Hangzhong Rd.
Line 11:Jiangsu Rd. ↔ North Jiading/Anting

You can also purchase a public transportation card at the subway ticket windows, which you can use at all the subways, bus routes and in all of the taxis. The card is free, but you must pay a 30RMB deposit that you will get back when you return the card. During rush hour this can make a huge difference, as lines can be really long at the ticket windows.
Public Bus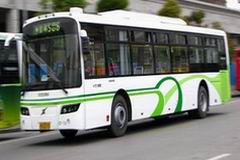 In Shanghai public buses cost 1 yuan per trip for normal buses and 2 yuan per trip for the air-conditioned buses. The public bus system is quite extensive, but the signs at bus stops are usually only labeled in Chinese. If you know Chinese or can get somebody to help you pick your route, the bus can be more convenient than the subway and cheaper than a cab.
Contrary to popular belief, buses are not color coded-the bus number is. Routes 1 to 30 are for trolley buses (now supplemented by regular buses). Buses 1 to 199 operate from 5 am to 11pm. Buses in the 200 and 400 series are peak-hour buses, and 300 series buses provide all-night service. Suburban and long-distance buses don't carry numbers-the destination is in characters.
Taxi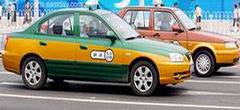 There are almost 50,000 taxis in Shanghai, operated by over 150 companies. They are reasonable cheap and easy to flag down, except the rush hour(7 to 9 a.m and 5 to 8 p.m).

But taking taxis in Shanghai is more expensive than in other cities. In the daytime, the price is CNY12 for the first three kilometers (1.9 miles), an additional charge of CNY2.4 for every succeeding kilometer within 10 kilometers (6.2 miles) and CNY3.6for every succeeding kilometer after 10 kilometers.At night from 23:00 to 05:00 the next morning, the taxi fare is CNY16 for the first three kilometers, an additional charge of CNY3.1 for every succeeding kilometer within 10 kilometers and CNY4.1 for every succeeding kilometer after 10 kilometers. You can bargain over prices when taking taxis at night. Whether you take a taxi during daytime or at night, CNY2.1 (CNY3.1 at night) will be added for every five minutes of stop time.