Located at the People's Square, the city's heart, the Shanghai Grand Theatre occupies an area of 2.1hectares, facing the People's Boulevard in the south, along Huangpi Beilu in the west, next to the Shanghai Municipal Building in the East. With its unique style and beautiful outlook, the theatre has become a representative building in Shanghai, whose existence renders the People's Square virtually the city's center of politics and culture.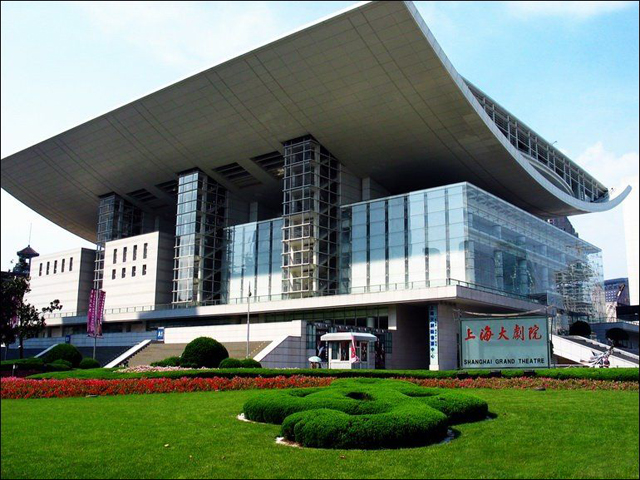 With a total construction area of 62,803 square meters and a total height of 40 meters, the Shanghai Grand Theatre has 10 storeys, two for underground, two for lofts and six on the ground. Designed by Charpentier's France, the new style architecture combines the Eastern and Western flavor. It looks like a crystal palace in the light at night as the white arc-shaped roof joins coherently with the light- sensitive glass curtain wall.
The lobby of Shanghai Grand Theatre is approximate 2000 square meters with the white as its main tone, which signifies elegant and pure. A large chandelier, formed by six pan-pipes shaped lamp, is suspended in the lobby. The floor is made of a rare marble called "Greece Crystal White". The patterns shaped like piano digital, together with the pillar and the stairs, are full of rhythms. While being inside, it's really like staying in a musical world. At the theatre, which is made up of three parts, such programs as the opera, ballet and symphony can be performed. The Shanghai Grand Theatre has three theatres. With 1,800 seats, the lyric theatre is divided into the auditorium, the 2nd-floor, the 3rd-floor and six balconies. The drama theatre has 750 seats and the studio theatre has 300 seats.
The lyric theatre has world-class stage facilities, which was designed and fabricated by MITSUBISHI. It is made up of the main stage, the rear stage, the left wing and the right wing. All these stages can be removed, lifted, sloped and rotated. The lyric theatre also has high requirement for acoustics construction and lighting equipment. While the JBL professional equipment is chosen for the acoustics system, the top products made by ADB Company in Belgium is chosen for lighting system. Controlled by computer, the stage equipment can satisfy the requirement of the world-class performing troupes.