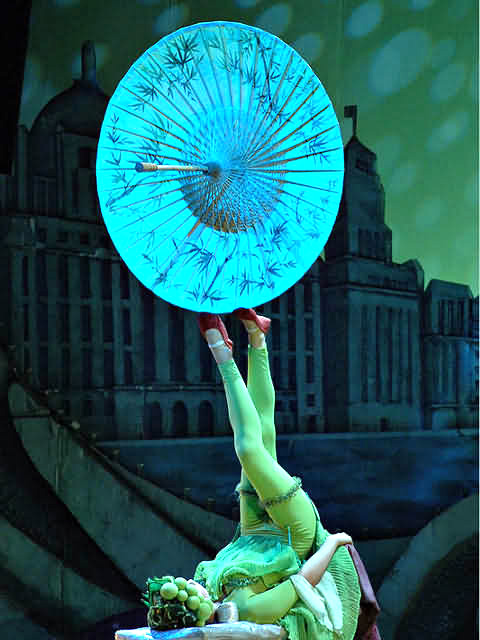 There are several acrobat shows across Shanghai, one of the best is the Portman Acrobatic Show. Performed by Shanghai Acrobatic Troupe which is a well-known Chinese professional acrobatics performing group which was founded in 1951. It frequently tours internationally and perform routinely at Shanghai and other cities in China.
Portman Acrobatic Show is a production with strong Shanghai features, was presented by Shanghai Acrobatic Troupe in 2005 at Shanghai Center Theater. The program consists of 3 parts- "Autumn Day", "Moon Reflection" and " Rosy Clouds"- showing the vicissitudes of Shanghai: "Grand Feast" and "Lovers at the Bund" tell the story of yesterday; "Juggler in the Bar" reflects the charm of today; "Hoop Diving" and "Magic Illusion" predict the development of tomorrow. Some acts such as "Play Dooly", "Silk Stripes" and "Pyramid of Chairs " are the "Gold Lion Award" winners at China National Acrobatic Competitions.
Where: The Shanghai Center Theatre, 1376 Nanjing Xi Lu, Shanghai  ( 4th floor of the Portman Ritz-Carlton Hotel )
When: 7:30pm, usually seven nights a week
ERA Acrobatic Show is a love story, yet it is also a contemplation across the millennia, a fascination with that other dimension man has yet to conquer: time. ERA's acrobats are on a quest to find that tenuous point of balance, the intersection between X, Y and Z.
Where: Shanghai Circus World, No. 2266 Gonghexin Road, Shanghai, China
When: 7:30pm, usually seven nights a week