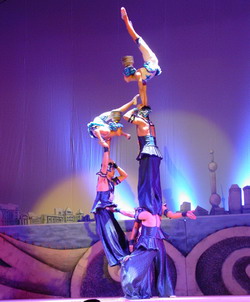 ERA Acrobatic Show is performed at Shangahi Circus Wolrd.
ERA Acrobatic Show is performed at Shangahi Circus Wolrd. Unique in architectural shape and with a golden dome-like roof, it is another landmark building of Shanghai, an international cultural metropolis. It has the acrobatic field as the main building, rehearsal auxiliary building, animal room and commercial cultural city as necessary installations.
The acrobatic field, which has a total of 1, 638 seats, is equipped with modern lighting installations and surrounding sound.
Book Portman Acrobatic Show online Book ERA Acrobatic Show online
Book ERA Shanghai Circus Ticket online
Map of Shanghai ERA Theatre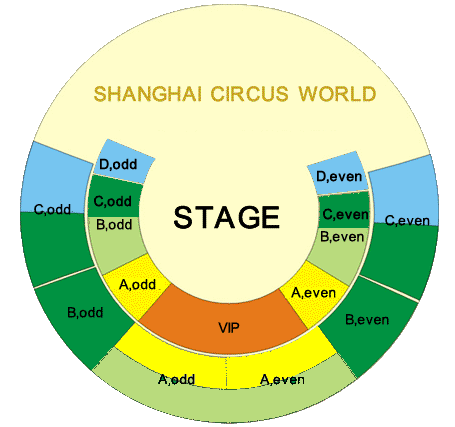 Quotation
Service includes: Ticket + Guide + One way transfer from hotel to theatre.
| | | | | | |
| --- | --- | --- | --- | --- | --- |
| Ticket type | Area | Single | Twin | Triple | Group |
| VIP class | Orange | 190 | 154 | 142 | 136 |
| A1 class | Yellow | 126 | 95 | 85 | 80 |
| A2 class | Light Green | 111 | 80 | 70 | 65 |
| B class | Dark Green | 99 | 68 | 56 | 50 |
| C class | Blue | - | - | - | - |
Currency: USD
Can I book ticket only
No. The theatre only issues ticket 30 minute prior of the show time on show day, and ask us to assign a tour guide to escort foreigners from the hotel to the theatre. Only by this way, the theatre accepts our reservation for pre-booking. That is the reason why our quotations sounds so expensive.
In fact, we recommend you to watch another show of Shanghai acrobaitic at 5 star Ritz-Carton hotel. The cost is only USD22 per person.
100% refund guarantee
Thousands of our clients have paid through PayPal to book tickets in this way. If you have not received your tickets, we guarantee to send 100% refund to your paypal account.
Ticket Category
Single ticket - book ticket for one person
Twin ticket - book tickets for two persons
Tripple ticket - book tickets for three persons
Group ticket - book tickets for four persons or more
What service is included
Hotel Pickup - Ticket + Guide + One way transfer:
show starts at 19h30. Our our tour guide will pick you up from your hotel. Please wait in the lobby at 19h00.
Why so expensive for Single Ticket / 1 person
No one shares the cost with you for a 7-seat van with driver and tour guide.
Telephone Confirm
Our tour guide will make a phone call one day prior, usually at 22pm to your hotel, first find out which room you stay in, then talk with you to double confirm the pickup time and pickup place. If you are not in the room, we will leave a note or voice mail at the reception desk.
The purpose for this telephone call is to make sure that you have checked in the hotel. So in case you have not checked in the hotel for any reason, please telephone us immediately at: +86 773 5842580 (outside China) or 0773 5842580 (in China).
Take a taxi back to the hotel
Our tour guide will leave the theatre after helping you to find the seat. After the show, please take a taxi back to the hotel by yourself. This cost is not included in our quotation. If you need the driver and tour guide to wait for you, please tell us when you book the ticket, an extra cost will be informed.
Need to cancel the ticket
No cancellation fee if you change or cancel the booking 48 hours prior of the show day. We will send the refund to your paypal account.
If you cancel the booking in 48 hours, no refund.
Need to change to another show day
Please inform us 48 hours prior of the show day, we will check the availability for seats, tour guide and driver, if we can not change to the required day, we will inform you as soon as possible, we will recommend another day, or send the refund to your paypal account as required.