Located in downtown Shanghai, the People's Square is the largest public square in Shanghai with the People's Park next door it was a race course. After liberation, the northern part of the race course was built into today's People's Park and the southern part, into the People's Square. The square is public place for people to hold festival activities and spend their leisure time in rest or recreation.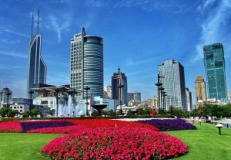 In the early '90s, the municipal government rebuilt the square and there before the visitors stands a new and more magnificent square. The new city hall is at the northern side of the square and opposite to in at the southern side is the new Shanghai Museum. Next to the city hall is Shanghai Grand Theater. To the left of the city hall, Shanghai City Planning Exhibition Hall is underway. No 1 Subway People's Square stop in underground and connected to the subway stop are two shopping malls - Hong Kong Famous Brand Shopping Street and Dimei Underground Shopping Arcade.
The People's Highway, paved with granite, 600-m log and 32-m wide, runs from east to west through the square in front of the city hall. In the southern part of the square underground are three large-scale structure: a multi-functional commercial city connecting the subway stop, an underground transformer house, the largest city transformer in Asia and a parking lot of 20,000 sqm., the largest in Shanghai.
The square aboveground is covered with lawns and flower beds are fountains, sculptures, artistic lantern posts and stone chairs and stools.
The People's Square today is Shanghai's political and cultural center.