Xitang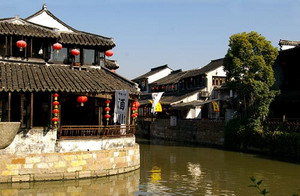 Xitang is an ancient town with peaceful and beautiful environment, located in the north of jiashan county, zhejiang province, it features flat terrain, crisscrossed rivers, numerous, bridges, lanes and ceilinged corridors.
Ceilinged corridors are the most special scene in xitang construction. These corridors were originally built to make convenience for the residents trading on boats by the side of the rivers. Each shop has a ceiling over the stone-slate road in front of its own house, and the ceilings connect with one another to form corridors. The longest ceiling stretches 1,300 meters, like a silk belt winding along the river.
Another feature of xitang is the ancient architecture which was well-preserved from the ming and qing dynasty. There are a total of 122 lanes, long and short, wide and narrow. Five of them are longer than 100 meters. Among all the lanes, shipi lane is the most famous.In the old town of Xitang, people who live there are not rich, so no newer modern houses have been built there. That's maybe one of the reasons why the old constructions are preserved as a whole almost without damage.
The bridges to the south of the lower reaches of the Yangtze River are like the hyperlink to the internet. They are indispensable not only in terms of convenience but also in terms of beauty. Waterways are interwoven in Xitang, so it is not surprising that many bridges cross over the rivers. Here the creative shapes of bridges are very different from each other. What's more, beautiful legends about these bridges are still spread among the people. The craftsmanship of these well-preserved bridges is so masterly that they are indeed a feast for your eyes. Exquisite bridges dot the mirror-like rivers one after another, like flaring clusters of diamonds on the neck of the old town.
More Shanghai Attractions