Wuzhen
Wuzhen is part of Tongxiang, in northern Zhejiang Province, China,which is a historic scenic town. It lies within the triangle formed by Hangzhou, Suzhou and Shanghai. Wuzhen's area is 46.5 square kilometers. Due to its warm and humid climate, and abundant rainfalls and sunshine, the products here are rich,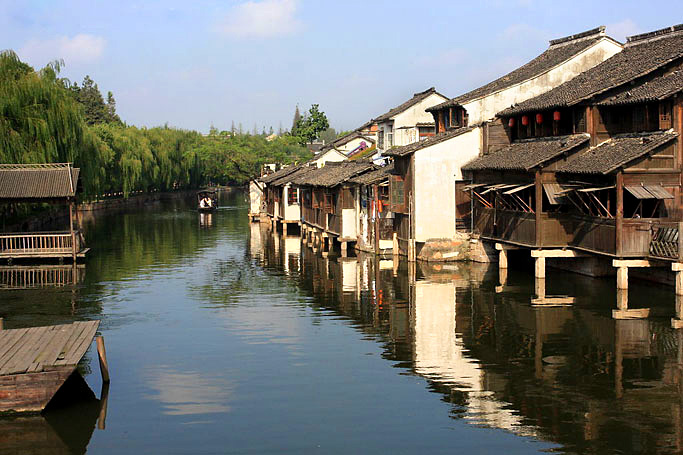 making Wuzhen wellknown as "the town of fish, rice, and silk".
Located in the center of the six ancient towns south of Yangtze River, 17 kilometers (10.56 miles) north of the city of Tongxiang, Wuzhen displays thousands of years of history in its ancient stone bridges floating on mild water, its stone pathways between the mottled walls and its delicate wood carvings. Also, setting it apart from other towns, it gives a unique experience through its profound cultural background.
Wuzhen enjoys a history of over 1,000 years since its establishment in 872 A.D However, according to the textual research of the Tanjiawan site, one of the important cultural relics under state protection, ancestors of Wuzhen had lived here at the New Stone Age 7,000 years ago. Wuzhen has become a living fossil of ancient civilization for its profound history and culture, graceful water town scenery, unique-flavoured delicious foods, various and colorful folk-customs and festivals.
Mao Dun, a renowned modern Chinese writer, was born in Wuzhen, and his masterpiece, 'The Lin's Shop', describes vividly the life of Wuzhen. In 1991, Wuzhen was authorized as the Provincial Ancient Town of History and Culture, it was ranked first among the six ancient towns south of the Yangtze River.
Wuzhen's uniqueness lies in its layout, being divided into six districts. These are: traditional workshops district, traditional local-styled dwelling houses district, traditional culture district, traditional food and beverage district, traditional shops and stores district, and water township customs and life district. Wandering along the east-west-east circuit created by these six districts, tourists can enjoy the atmosphere of the traditional cultures and the original ancient features of the town that have been preserved intact.
More Shanghai Attractions