The Shanghai World Financial Center is a supertall skyscraper in Shanghai, China. It is a mixed use skyscraper which consists of offices, hotels, conference rooms, observation decks, and shopping malls on the ground floors. Park Hyatt Shanghai is the hotel component containing 174 rooms and suites. On opening, this hotel will become the highest in the world, surpassing the Grand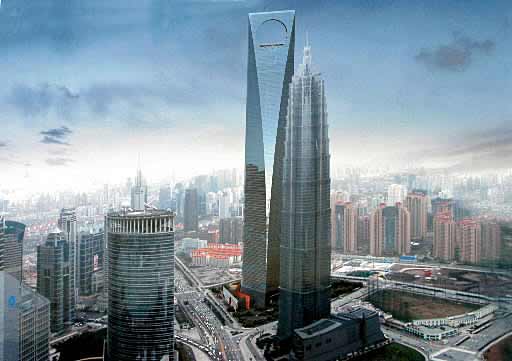 Hyatt Shanghai on the 53rd to 87th floors of the neighboring Jin Mao Tower.
On 14 September 2007 the skyscraper was topped out at 492.0 meters (1,614.2 ft) and became the second tallest building in the world; as well as the tallest structure on mainland China, including Hong Kong. It is currently the world's tallest completed building by roof.
On 28 August 2008, the SWFC officially opened for business. On August 30 the Observation Deck opened with a view from 3 levels. The highest view is at 474 m (1,555 ft) above ground level. The structure features 3 floors of underground parking, shops and a conference center on floors 1 through 5, offices on floors 7 through 77, a hotel located on floors 79 through 93, and finally observation and exhibition areas on floors 94 through 100.
There are 3 observation decks in Shanghai World Financial Center. The height of its lowest observation deck is 423 m (1,388 ft), on the 94th floor. The second is 439 m (1,440 ft) high, on the 97th floor, named "Observatory Bridge". And the highest is 474 m (1,555 ft) high, on the 100th floor.
At 480 meters, the Shanghai World Financial Center is the second tallest building in the world as of 2008. It is 16 meters shorter than the 508 meter Taipei 101 in Taiwan, although this is because of the spire atop Taipei 101. Counting by roof height the Shanghai World Financial Center is a full 44 meters taller than Taipei 101.
To protect the building from fierce winds, the Shanghai World Financial Center holds two tuned mass dampers below its observation floors to reduce the building's sway during windstorms and earthquakes.
History
Designed by Kohn Pedersen Fox, the 101-story tower was originally planned for construction in 1997, but work was temporarily interrupted by the Asian Financial Crisis in the late 1990s and later to accommodate design changes by the developer. The building of the tower is financed by several multinational firms, including Japanese, Chinese, and Hong Kong banks, as well as by the Japanese developer and as-yet unnamed American and European investors. American investment bank Morgan Stanley is coordinating the financing for Mori Building.
The trapezoidal hole atop the Tower was originally a sphere, designs where changed after the Chinese Government made claims in 2005 that the Japanese Funded Building's circular hole was too similar to the rising sun on Japan's Flag.