Tongli
To be honest to its reputation, Tongli is a really wonderful travel destination where you can spend a marvelous holiday or experience traditional Chinese culture. Follow the guide and you will have a general idea of this attractive water-town.
Tongli, located along the bank of Tai Lake and to the east of ancient canal with eight lakes surrounded,which belongs to Wujiang in Jiangsu Province; it is 80 kilometers away from Shanghai Hongqiao Airport in the east and 18 kilometers away from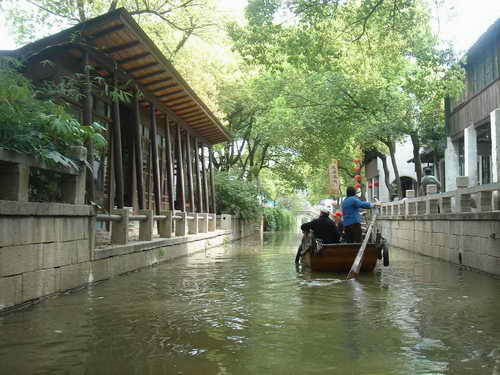 Suzhou in the north, adjacent to 318 national highway in the south and Suzhou—Jiaxing expressway in the west. The administrative district of Tongli town, after mergence of Tongli and Tuncun in October, 2001, covers a total area of 102.91 square kilometers and boasts a total population of 58,000 with 12 administrative villages, 1 aquatic product base and 6 community residents' committees affiliated.
Tongli, formerly known as Futu, changed its name as "Tongli" in early Tang dynasty due to its luxuriousness, and the current name "Tongli" can be traced back to Song dynasty when people re-created the two characters of "fu" and "tu".
Pretty and unsophisticated Tongli town boasts fertile paddy fields, rich resources and outstanding natives, thus crowned as "Small Oriental Venice". Tongli is characterized by a large number of architectures in Ming&Qing dynasties, small bridges and outstanding celebrities. Tongli boasts 38 residences in Ming&Qing dynasties, 47 temples and ancestral halls and around 100 residences of local rich and powerful people as well as former residences of celebrities. In the past, Tongli ancient town features over 20 natural scenic spots including "Eight Sceneries Ahead", "Eight Sceneries Back", "Successive Four Sceneries", etc., while such sceneries as "Eyeing on the Moon by East Creek", "Mist in Southern Area", "Overlooking on Top of Northern Hill", "Flute form Fishing Households", "Flourishing Vegetation of the Hill", etc.

More Shanghai Attractions