As for nightlife, Shanghai has a huge amount of bars and clubs, catering for all tastes and budgets. There are many relaxed Western-type bars which offer all the favorite tipples from home and show live sports, from football to rugby to baseball.
There are also some excellent jazz bars with great live music. If you want a bit of a dance, the city's bigger clubs regularly welcome popular international DJ's who dominate the decks until the small hours of the morning.
If you want to get dressed up and sip cocktails, you won't be disappointed. The majority of Shanghai bars offer beautiful and luxurious settings and extensive drinks lists. And if you really want to treat yourself, go to one of the pricey bars located high up in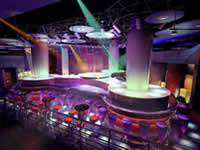 some of the city's tallest skyscrapers and enjoy the wonderful views.
Baby Face
Located just to the south of People's Square in the heart of the city Babyface is very much the heart of the Chinese club scene. There are plenty of places which are legendary amongst ex-pats that most Chinese have never even heard of. Babyface is the one club that every young Chinese knows and at times it feels like every young Chinese goes there. It's big club with a big reputation and always crowded. There are persistent rumours that foreigners are turned away at the door which, although not true, does illustrate that it's mostly a local club for local people. One of the drinks of choice is whisky mixed with green tea. The best place to see how the Chinese do a big night out.
Park 97
The Lan Kwai Fong Entertainment Group consists of Baci Italian Cuisine, KazBar Lounge, California Club, Lux Shanghai, and Park 97. Park 97 offers a great selection of late night entertainment for many groups in Shanghai. Appealing to the well connected as well as full pocketed populations in Shanghai – you will see many westerners, nouveau-riche Chinese, and American Born Chinese dancing and drinking amongst the two large floors at Park 97.
Upstairs at Park 97 often offers a band, although very little room to dance – I'm not sure what the reasoning behind that is. The last time I visited Park 97 there was a great Latin Band and many people had tried to create a dance floor in the only walking space available, I don't really blame them, I wanted to dance too – but it made for a pretty claustrophobic environment.
Despite the claustrophobia, you can definitely come here on a Friday or Saturday night and find a great, engaging night. If you want a change of venue, head over to Guandi, only a few steps away, also in Fuxing Park.