Xiaolongbao is a famous and popular one originating from Nanxiang Town in the northern Jiading District of Shanghai. Dating back over 100 years, Nanxiang Steamed Stuffed Bun features the typical Shanghai flavor. It is famous for its thin wrap, big stuffing, strong flavor and tender meat.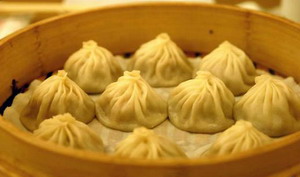 Besides the use of refined flour and pork, Nanxiang Steamed Stuffed Bun has many special ingredients. Water, salt, sugar, soy, sesame and ginger are added to make the stuffing. Even without MSG, shallot or garlic, the buns stay fresh with a delicious flavor. The main pork stuffing is mixed with various seasonal ingredients: bamboo shoot for spring, shrimp for summer and crab for autumn. It's hard to believe that the stuffing is two times larger than the wrap. Miraculous, isn't it?
The prepared buns with translucent thin wraps are as small as water chestnuts. The appealing appearance of the buns may make you feel hungry. However, if you are hasty you will probably be hurt by the hot buns. Here are tips for tasting this snack: bite carefully, sip the soup and dip into special Zhenjiang vinegar. "Wow, yummy!" is then an understandable reaction.
The Hong Kong film Leaving Me Loving You, featuring Hong Kong pop stars Leon Lai and Faye Wong, made this snack known to a wider audience.
Recommended places to try this snack:
Shanghai Guyiyuan Restaurant: No.238, Guyiyuan Road, Nanxiang Town, Jiading District
Nanxiang Mantou Restaurant: No. 85, Yuyuan Road, Huangpu District