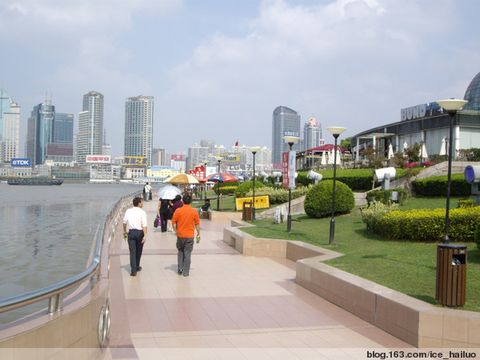 The 2.5-kilometer Riverside Avenue along the waterfront of the Huangpu River attracts many visitors. Promenade is a wise choice to look around the main sites in Pudong. Besides the Oriental Pearl Tower, the Shanghai Stock Exchange, the Ocean Aquarium, the Jin Mao Tower, the Super Brand Mall, and a string of restaurants and coffee houses are there or close to it.
It is not only a nice place to visit, but has also become a booming commercial center in Pudong District. The location has attracted many famous restaurants, cafes and coffee houses, such as Starbucks, Lavazza and Haagen-Dazs .
Many fashion shows are also held at the avenue, since it can be set as a gorgeous background along the Huangpu River and many luxurious commercial buildings are built there as well. A Giorgio Armani a fashion show on the avenue attracted more than 1,000 people. Formula One boat racing has been held on that stretch of the river and the World Female Handball Championship Tournament has also been held on the avenue area.