Highlights of Oriental Pearl TV Tower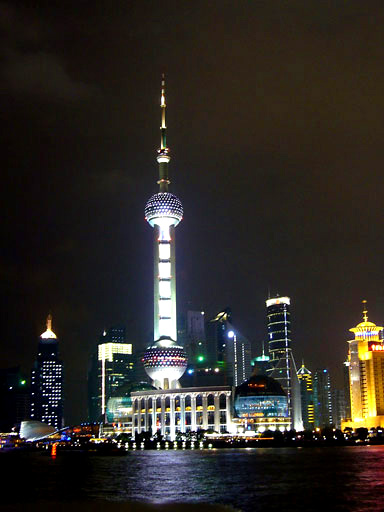 Head back to the Oriental Pearl TV Tower and queue up for a sci-fi architectural exploration. Most visitors will rush towards the elevators to see the city in all its expanse, chaos and splendor. However, before heading up to see what Shanghai is becoming, take some time to wander through the basement history museum. This catacomb of excellent historical displays takes you from Shanghai's early days as a walled fort under the Ming dynasty to the beginning of European colonialism and up the Japanese invasion. Several of the displays are interactive and the museum is worthy of a half-day visit. It certainly adds a few layers of meaning when you step into the elevator and rocket up 3m per second to the mid-level bubble to gaze at the bustling city below. An additional elevator will take you to the heady top pod-over 342m above the ground. From this top module, there's a chairman style desk flanked by a flag of China where visitors can sit and have their picture taken and imagine being a captain of capitalism, going where no one has gone before.
Head back to earth and back towards the Pearl Tower. Pass the behemonth Super Brand Shopping Mall and follow the sound of the ship horns, you'll soon find yourself overlooking the old Bund. There are numerous restaurants and cafes on the walkways and vendors sell souvenirs, sodas and teas. Outdoor seating allows visitors to sit in the sun and drink in the river view. It's best to come here just before dusk and get a good table, this way you can drink and eat to your heart's content while watching the ole buildings on the Bund light up at sunset. It's a nice way to close a fine day in the Pudong or begin a wild Shanghai night.