Old Town Bazaar
The Temple of the Town God is located south of Yuyuan Gardan. There used to be a temple to the local deity, which the inhabitants believed would protect them, in every city. The city deities were frequently real persons to whom the town owed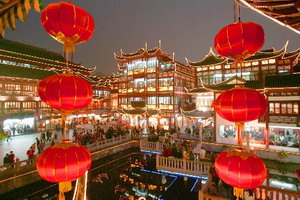 something. Today, an arts and crafts store is in the temple.
There is a street, historically called Miaoqian Dajie, is an old business street that has a combination of tourist attractions, shops, entertainment and cultural exhibits. It owes its special social attractions and rich commercial background to the fact that the earliest bank, gold shop, jeweler's store, wine shop and tea house of Shanghai were all to be found here.
Getting There:
Best to take a taxi. Many of the streets are one-way or blocked on weekends. The taxi will drop you in the area and then you can wander around. You'll know you're in the right place when you see classical Chinese architecture.
How Much Time to Spend:
Plan to spend a nice half-day wandering around, especially if you also want to see the garden and do some shopping. It's nice to go in the morning and then stop somewhere for a dumpling lunch.
Tips:
Don't try to leave the area on a weekday between 4-6pm. Trying to get a taxi out of the area can be a nightmare. The area is fun to see at night. All the eaves of the buildings are lit up and you can get some fun night photos. Try some of the Shanghai snacks that can be found in the bazaar around the garden and Huxingting Tea House.
Be careful with your valuables, it's a crowded place and easy pickings for pickpockets.
More Shanghai Attractions