Constructure of Jinmao Tower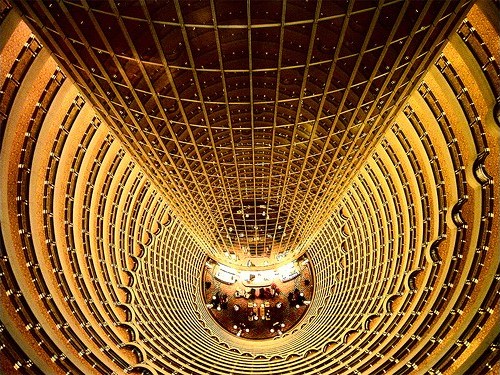 Jinmao Tower with 420.5 meters high and has 88 stories above the ground, it is the tallest building in China where people can get the best bird's eye view of Shanghai. Constructed by the same team that built the Sears Tower in Chicago, the building to symbolizes wealth and prosperity with Buddhist symbolism gone post-modern. It has 88 floors (8 is lucky number in Chinese) and 13 bands, which is symbolic in Buddhism. Its name carries several meanings from "economy and trade" to "gold and prospertity." Whatever the backers had in mind, one thing is for sure, it's doing everything they wanted. Forture 500 firms and joint ventures all share the same office space in this giant monolith. The floors are well guarded and only two areas are open to the public: the observation floor on the 88th floor and the restaurant and bar in the Shanghai Grand Hyatt Hotel.
The entrance to the high-speed elevators are in the high-tech basement and for those who aren't drunk from the view, there's the Cloud 9 bar on the 87th floor. Head into the Grand Hyatt Hotel and signs will point you the way. There's also a retaurant and cafes in the Grand Hyatt that offers great views if the haze isn't too bad. Be sure to check out the main lounge and try not to fall over when looking up at the gigantic open atrium.