Located on the west side of North Sichuan Beilu in the Hongkou District of Shanghai, Duolun Road is a famous Chinese historic cultural street. It is south of Lu Xun Park and the new Hongkou Football stadium, with its back to the Inner Ring Road and the Shanghai Metro Line. Duolun Road has some of the Shanghai's best examples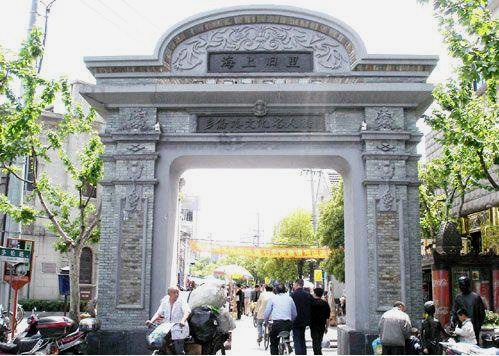 of European villas and mansions as well as old Shanghai-style buildings.
Duolun Road with a history of more than one hundred years, crossing the 19th, 20th and the 21st centuries. The Road prospered gradually at the end of the 19th century and the beginning of the 20th century. During the first 20 to 30 years of the 20th century, numbers of great Chinese literature masters were beginning to move into Duolun Road one after another. In the 1930s, during Shanghai's famous wide open colonial years, Duolun Road flourished as "the famous and major district of modern Chinese literature". During that time some of China's most famous literature masters and cultural giants like Lu Xun, Mao Dun, Ye Shentao, Qu Qiubai, Feng Xuefeng, Guo Moruo, Ding Lin and Rou Shi all lived at various locations on the street, making the road an important feature in China's modern cultural history.
During that time the Uchiyama Bookshop was opened by Lu Xun's Japanese friend Uchiyama Kanzo. Lu Xun often went there to buy books, or to meet guests. The Hengfeng Tea Shop, which was next door to the bookstore at 48 Duolun Road, quickly became the place where Shanghai's famous literature elite often visited and socialized, and because of this the Hengfeng Tea Shop also became known as the "House of Famous People" or "Celebrity's Teahouse".