Shanghai International Convention Center is located on Riverside Promenade in Pudong opposite to the Bund on the other side of the river.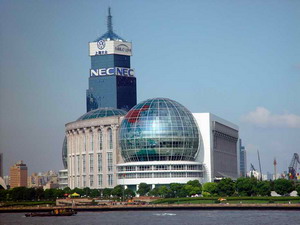 Together with the Oriental Pearl TV Tower it has formed a popular tourist sight in the Lujiazui area.
Shanghai International Convention Center has a total floor space of 110,000 sq.m. with 73,000 sq.m. underground. It consists of up-to-date convention halls and meeting rooms, a multi-functional hall of 4,300 sq.m., able to accommodate 3,000 diners or 4,000 meeting attendants and can also be used as an exhibition hall. There is a news center and an exhibition room, each of 3,600 sq.m., a meeting hall for 800 people and two meeting rooms each for 200 people and 30 meeting rooms of different sizes for 100 and 50 people. The center has 270 guest rooms, including presidential suites, executive suites and standard rooms.
Shanghai International Convention Center is complete with high-class catering facilities, including Chinese and Western restaurants, a special cuisine restaurant, a coffee room, comfortable recreation and rest areas like a ball room, a show room, a gym, a swimming pool, a bowling room, a billiard room, a sauna bath and a shoppin arcade. There is a parking lot for 600 cars. The convention center is another new scenic sight in Shanghai